Feature Friday: Chick-fil-A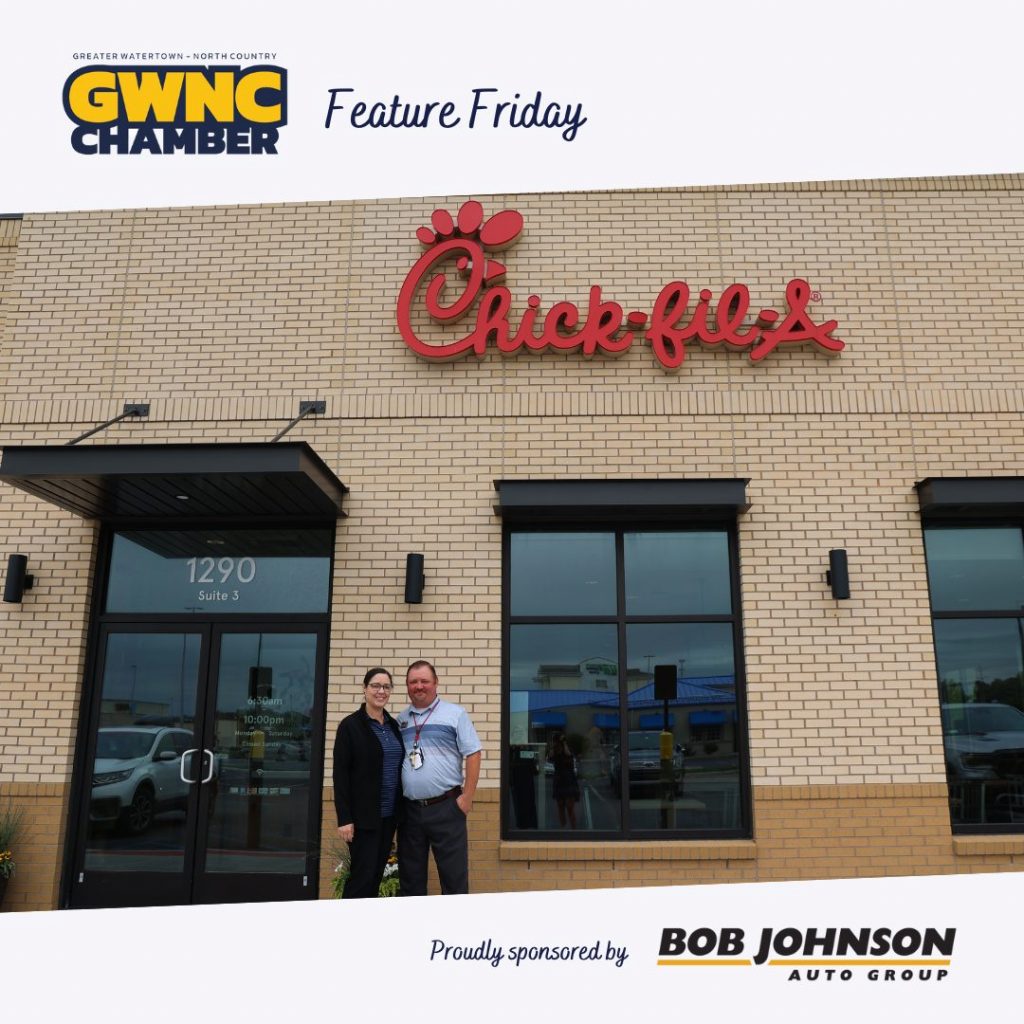 Our Watertown location on Arsenal Street is owned and operated by Merrit and Catherine Brady, residents of Henderson Harbor. The couple got their start in the food industry at 23 years old when they opened a catering business. Later, Merrit read a book about Chick-fil-A operations and it got him hooked on the restaurant's culture and values. The Brady family applied to franchise their own Chick-fil-A restaurant in the North Country, bringing quality fast-food and great hospitality to the Fort Drum area. The Watertown location officially opened its doors on October 27, 2022, to serve local customers.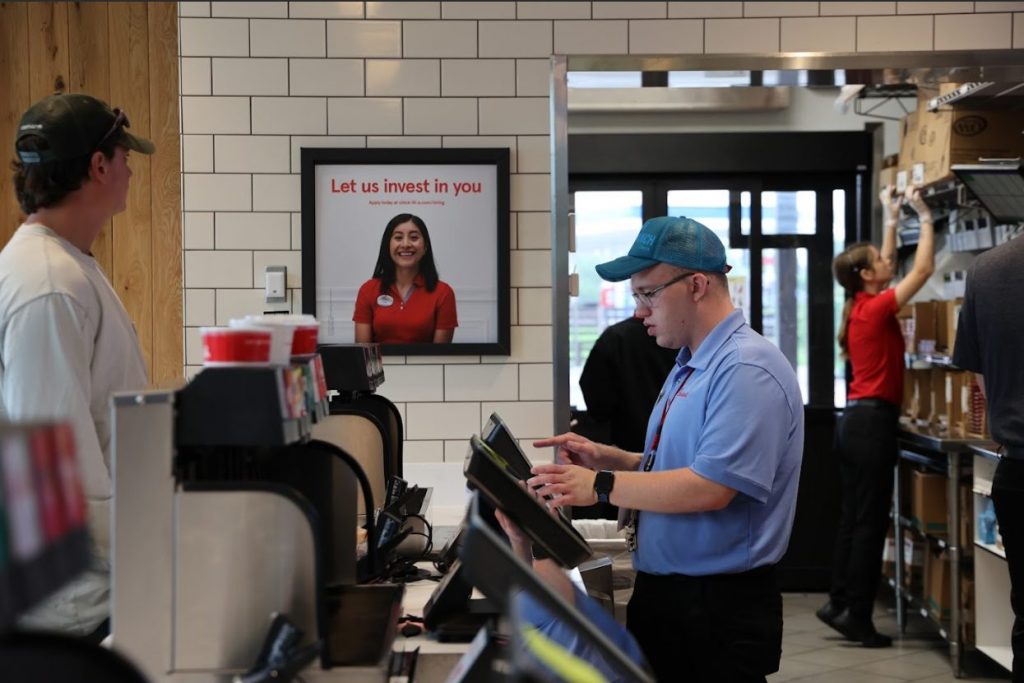 Watertown Focused
Chick-fil-A of Watertown is focused on making the community a better place. They strive to 'Win Hearts Every Day'! A company culture that focuses on providing quality food, creating a clean and safe environment, having fast and accurate service, and providing excellent hospitality. Outside of their everyday operating model, Chick-fil-A of Watertown assists the community through a giving strategy that focuses on combating homelessness, hunger, and providing quality education. Their vision is simple: to be Watertown's most caring company. A current initiative of the Watertown location is taking leftover food and donating it to the Watertown Salvation Army every Monday and Thursday of each week, providing two full days of product for our local soup kitchen.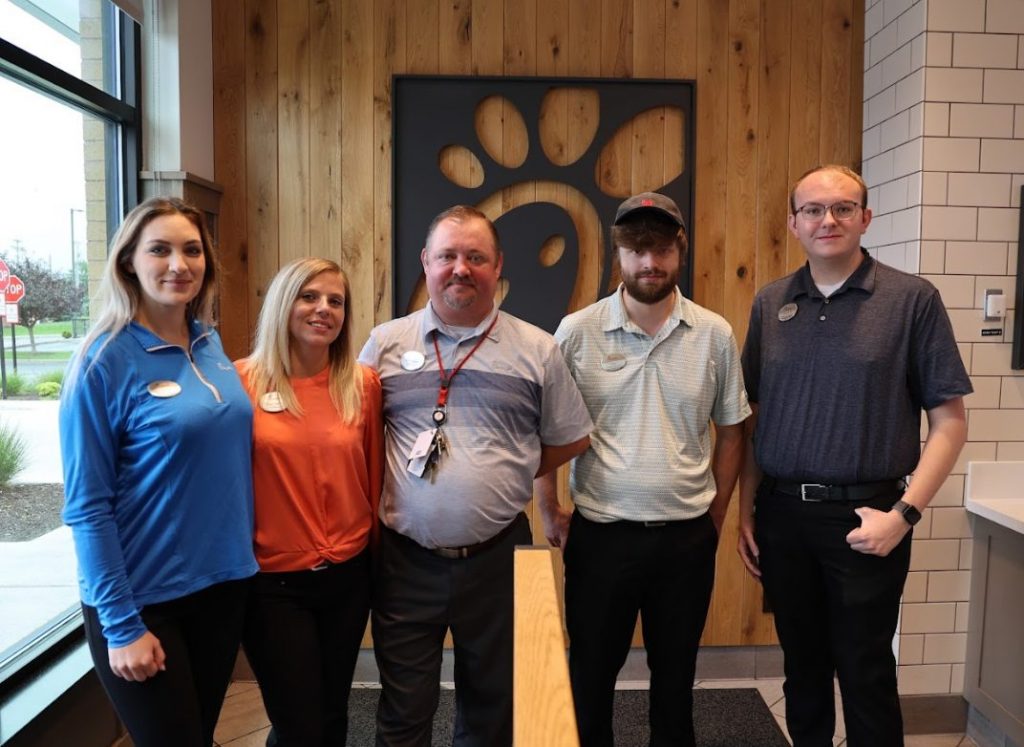 Dedicated Leadership
What's unique about the Chick-fil-A in Watertown? The 94-person staff operates like a family establishment where you can see owners Merrit and Catherine working on-site at any given point throughout the day, six days a week. "The best piece of business advice I was given: be present and be here," said Merrit. "There's nothing like standing shoulder to shoulder with your team working to provide exceptional service throughout the day. It's any easy way to show that you care not only about the establishment, but the staff."
Upcoming Events
Come interact with your local Chick-fil-A team at these upcoming events! An End of Summer Bash is taking place on Tuesday, August 29th from 4 – 7PM. Bring your family and enjoy an evening of chalk, face painting, raffle prizes, pictures with the cow, and more! Your local Chick-fil-A also hosts bingo every other Saturday morning with the next event taking place on Saturday, September 2nd at 9AM – free prizes for those participating.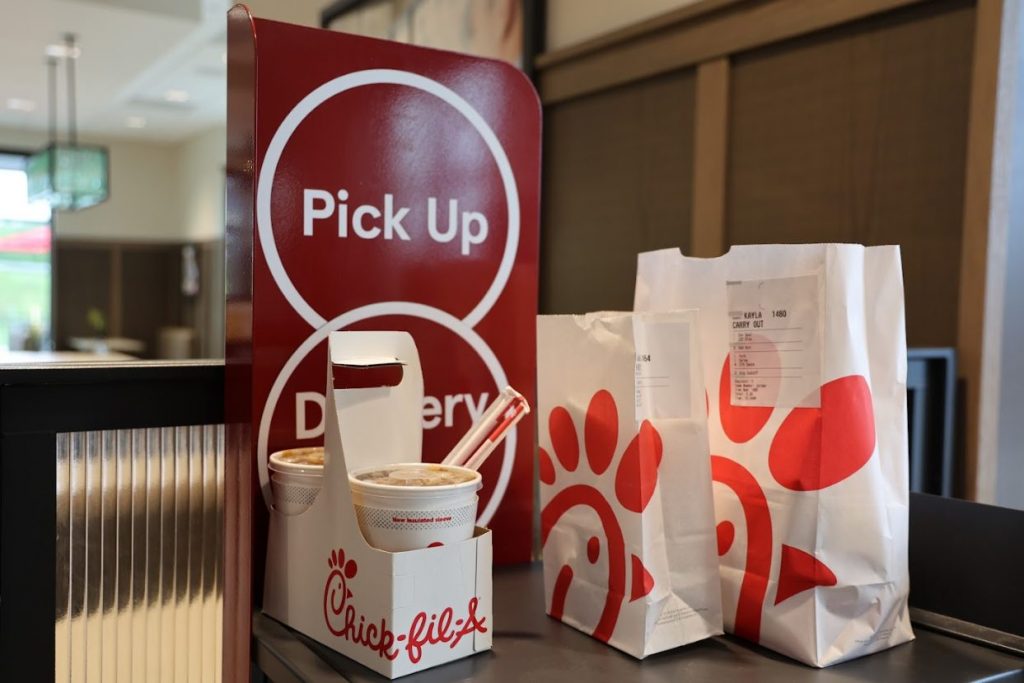 New Menu Items
Be on the lookout for these new menu items hitting Watertown on Monday, August 28th – the Honey Pepper Pimento Chicken sandwich and Caramel Crumble handspun milkshake! Don't forget – Chick-fil-A is open Monday through Saturday from 6:30 AM – 10PM serving a variety of breakfast options until 10:30AM. For all your catering needs, keep the Watertown Chick-fil-A in mind as they offer options for events of all sizes. Contact Stacy Roshia, Catering and Hospitality Director, for more information on catering when planning your next event.