The Greater Watertown - North Country Chamber of Commerce, through a Cooperative Agreement with the Defense Logistics Agency, administers a government marketing and technical assistance program known as the North Country Procurement Technical Assistance Center (PTAC). The North Country PTAC provides free government contract counseling to assist firms in selling to the military, local, state, and federal governments. Our North Country PTAC Program Director, Kayla Perry, can help you understand the basics of government contracting and marketing fundamentals so that you can market your goods and services to the military and other federal, state, and local government agencies.  The program's purpose is to help businesses learn about bid solicitations, proposals and a wide variety of contracting topics.  Ultimately, the North Country PTAC helps grow businesses by generating sales and creating jobs.  All counseling is free and confidential.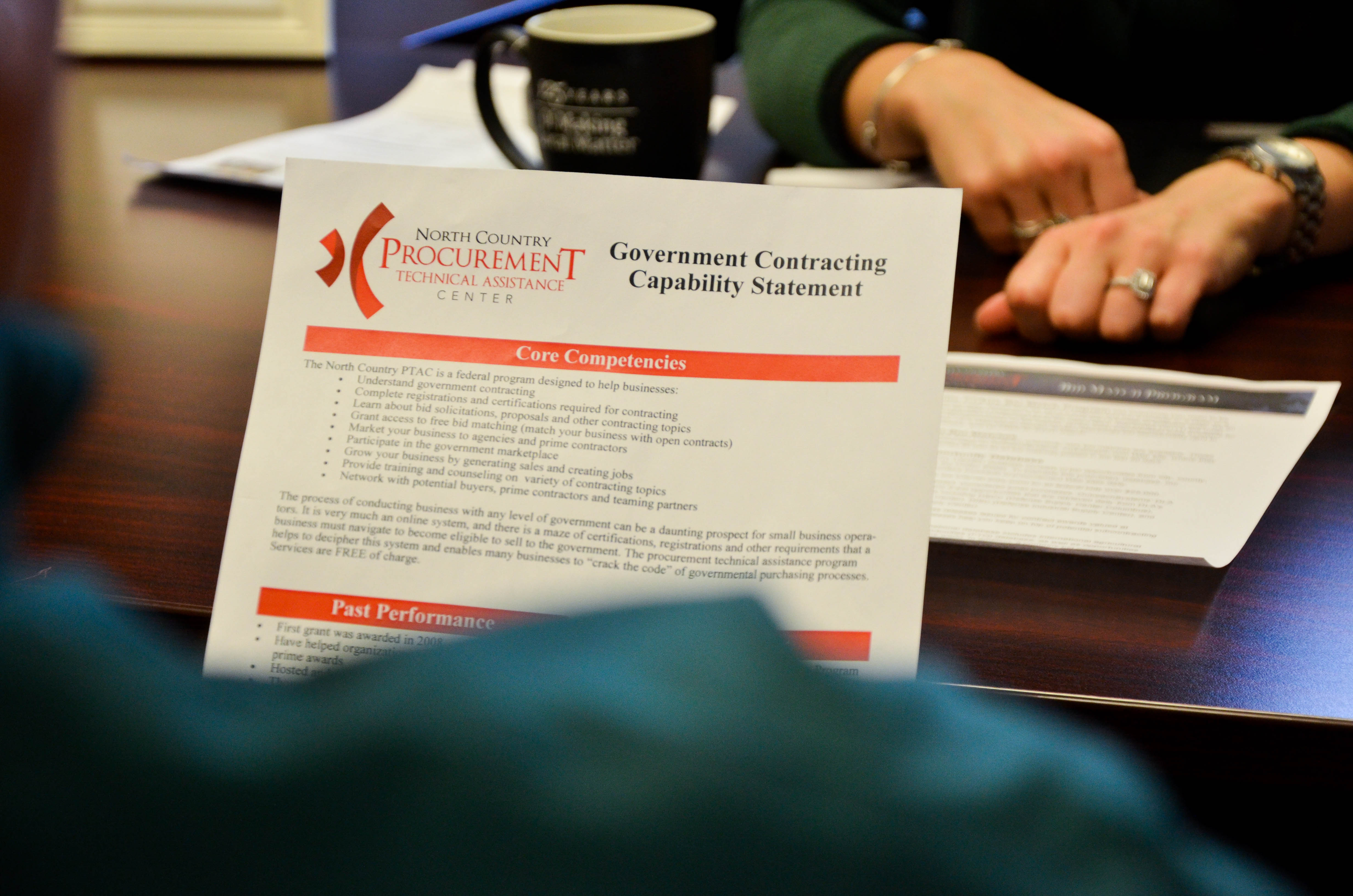 As a special economic development project offered to help businesses with headquarters located within the counties of Jefferson, Lewis, St. Lawrence, Oswego, Oneida, Franklin, Clinton, Essex, Herkimer, Hamilton, and Onodaga, the center provides no-cost assistance to businesses identifying available contracting opportunities within military, other federal, state and local government markets and their readiness to pursue those opportunities. Learn more about the North Country Procurement Technical Assistance Center by visiting the North Country PTAC or by contacting the program's director, Manna Doyle.
We are deeply appreciative of the assistance we are receiving from North Country PTAC and Steve Barr.  Without this support our minority-owned start-up service firm would not have some of our more prominent clients.   We are grateful to the help from PTAC and Steve Barr to set up the connection with Military base and many Universities in North Country. We have been the active attendees for every events hosted by PTAC including many match-makers and educational seminars.  Steve Bar has played the critical role to introduce us to Military base and instruct us on how to do business with Government agencies. With his advice, we even start to pick up some business from Municipal agencies.
~2016 Logistics Company – Onondaga County
I was introduced to PTAC in 2010, shortly after I relocated my company's headquarters to downtown Syracuse. Over the last five years I have utilized the services with great success. From my initial meeting regarding WBE certifications and learning how to negotiate government websites to be notified of RFPs, PTAC has been an outstanding resource. We have been awarded several state and federal work over the past decade, all of which on some level myself or my staff took advantage of the expertise of Stephen Barr and the North Country PTAC. For small businesses, an organization such as this, is of tremendous service. I am extremely grateful to have been a recipient of such a service.
~2016 Language Company – Onondaga County
During 2015 the North Country PTAC continued to offer assistance when needed for my small business. A variety of sessions pertaining to operation and maintaining records, compliance and safety records were offered. Bid match is also beneficial for up to date listings I can place quotes on. This local office is much appreciated!
~2016 Painting firm, Lewis County
2015 has been a very successful year for our business! Much of our success can be attributed to the North Country PTAC. We were awarded 12 contracts with the Department of Defense at Fort Drum, New York totaling over $1 million. We would like to thank you for all of your assistance and we look forward to working with you in 2016 and beyond.
~2016 Furniture Company, Onondaga County
This letter is in appreciation of the help from North Country PTAC in assisting my business procuring a contract in 2015 on Fort Drum.  The hands-on approach of the program manager Stephen Barr made the necessary communication for the registration processes with the parties involved at the facility at Fort Drum doable, rather than unattainable. 

My company has successfully re-registered for the 2016 calendar year, again with Stephen's help.  Our goal is to obtain a second contract if possible this year. 

I feel that I must extend a huge Thank You to the Watertown Chamber of Commerce and the North Country PTAC, namely Stephen Barr, for the cooperation and support necessary to obtain our goals as a local company.
~2015 Renewable fuel company, Jefferson County
Steve, I wanted you to be the first to know, I just received noticed that I was approved for my VA certification.  I want to thank you for your time coming to my office and helping fill out the application and assisting me with the process for submitting the additionally required documents.  I don't know how businesses complete all of this paperwork with you. 
~2014 Metal distributer, Onondaga County
PTAC is the best government program I have even seen in my life, you are very helpful and you always answer your phone calls.  I wish more agencies and programs were like you.
~2014 Construction company, Onondaga County
PTAC has been a great resource for us. Steve Barr at PTAC helped us get on the SAM registry, answer my questions I have about procurement and held our hand thru the bidding process that we just got awarded the contract on.  We couldn't have done it, without PTAC.
~2014 picture frame company, Jefferson County
Stephen Barr was a great assistance to us while we were submitting our qualifications to Ft. Drum's Sources Sought for A/E services.  He is very knowledgeable on the subject.  We really appreciated that he met with us.
~2013 A/E firm, Jefferson County
Keep up the good work and thank you for all of your help.  You're one of the few agencies in the area that actually does stuff that really benefits our company. 
~2013 St. Lawrence County firm
Every time I go to our local PTAC team with a question, they are always responsive and work very hard and I have my answer in no time.  They are a great asset to have. 
~2013 Manufacture, St. Lawrence county
Steve Barr and his staff are very kind, respectful, cordial and helpful.  They have assisted our organization in finding information that would typically be difficult to access that has helped us to find teaming partners and opportunities. 
~2013 Design firm, Jefferson County
I so enjoyed meeting with you. You opened my eyes to many possibilities for obtaining RFP opportunities to pursue in New York State and on the Federal side. It is a great service your Chamber and the Department of Defense provides to small consulting operations such as mine.
~2013 consulting firm, Jefferson County
I'd like to take the time to thank you and your team for putting together the matchmaker event!  In my opinion, this was one of the best business-to-business events that we have encountered in the area.  The quality and diversity of the attendees was unsurpassed, and very much appreciated.  As I talked with the other sponsors there, the topic of conversation was almost always directed toward how successful this event was. 
~2014 Information systems company, Jefferson County
After being referred to Steve Barr and PTAC from Fort Drum, we were able to receive our first contract.  That contract quickly turned into 5 more within the month.  Spending a couple of hours in the PTAC office changed my views and opened many options for our services. 
~2013 Tree removal company, Jefferson County
We spend many days trying to work with the government paperwork and registrations.  It was a very confusing and frustrating process.  I was referred to Steve Barr, after spending time with him, the process became very easy.  I am glad there is a resource like PTAC otherwise I would never have been able to get through the process. 
~2013 Body shop, Jefferson County
The projects that the PTAC provides on a daily basis has helped my company find projects within the local area and surrounding areas.  We have successfully won over 22 million dollars' worth of work as a direct result.
~2011 construction company, Jefferson County
This center was contacted by FEMA to help them get people registered in CCR.  They were placing people into mobile home parks in order so everyone could be placed in a home before Christmas.  "I want to write to say thank you so much for all your assistance with the vendors here in NY during this drive to get survivors into homes before Christmas.  I have heard really good things about you from the vendors and how much they appreciate all your help. 
~2011 Deborah Hailey, Contract Specialist, HQ DHS/FEMA
Steve, I would like to take this opportunity to thank you for everything that you have done for me and my business.  You have pointed me in the right direction every step of the way, and answered every question I had and took your time with me.  Thanks to your help, I got my first contract with Fort Drum in New York.  There is too much to list that you have helped me with.  Me and my family thank you from our hearts!  Companies need more people like you to help them see the way to a better future.  I hope your future stays bright.  Thank you again. 
~2010 Wildlife management company, St. Lawrence County